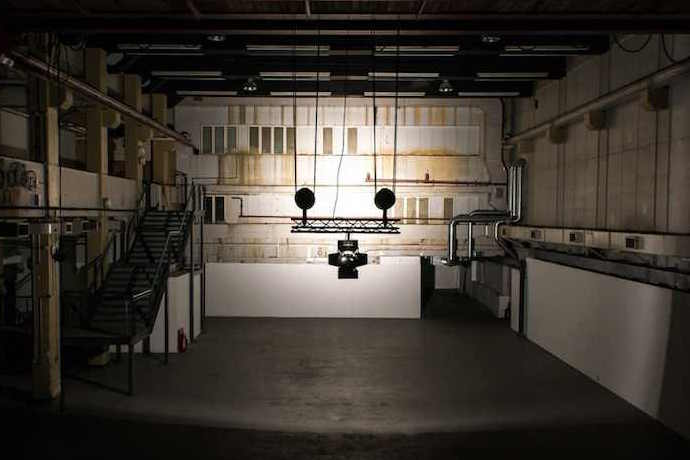 By Sam Pryce
Ambika P3, London
The capital's most adventurous festival of contemporary music returned for its sixth incarnation this week (3-10 December). With its resident ensemble Apartment House, LCMF showcases the best in new and experimental music from emerging composers to renowned artists, all situated in the rather appropriate venue of Ambika P3, a vast underground warehouse.
Monday night was devoted to the co-founder of the pioneering ONCE Festival of the 1960s avant-garde, the American composer Robert Ashley (1930-2014). Ashley's unusual blend of conceptual art and music-theatre was celebrated over the course of this baffling retrospective, The World of Robert Ashley.
The evening began with a profound sense of discomfort, evoked by a pair of Robert Ashley's early works: Purposeful Lady Slow Afternoon (1968), a deeply disturbing tape piece of a woman giving an account of sexual abuse; and the European premiere of Public Opinion Descends Upon the Demonstrators (1962), a jittery collage of tape samples and field recordings of unsettling sounds made by household appliances. Later, we heard some of Ashley's pieces written in the 21st-century — World War Three (Just the Highlights) (2010) and Tap Dancing in the Sand (2004). Apart from leaving you with a blinding headache, these difficult pieces seemed to tap into one of the enduring sonic preoccupations of Ashley: manipulating the listener, in particular via the reinterpretation of everyday noises, from the hiss of a hob to the growl of a flushing toilet.
The influence of the ideas and experiments of John Cage was obvious, yet they appeared somewhat jarring in the hands of Robert Ashley. Rather, it was the fresh perspectives on Ashley's theories and concepts offered by the new composers that shone through, in a series of contemporary vocal works by Travis Just, Jennifer Walshe and Christopher Fox. Closing the concert, after Toshi Ichiyanagi's intriguing 1962 work Sapporo, was a clip from Ashley's career-defining (and utterly bizarre) Channel 4 television opera Perfect Lives. Frantic and playful, splicing a range of different art forms together, it illustrated that nothing is ever as it seems in the world of Robert Ashley.
Ruins in Reverse, on the following evening, focused on musical works inspired by ideas of ruination, destruction and debris. It opened with a fantastically frenzied piece by John Oswald, founder of the Plunderphonics movement — a style of composition that incorporates the heavy sampling and splicing of wildly different recordings. Oswald's piece switched from cheesy power ballads to radio adverts, creating a musical collage of disposable pop detritus. For ruins of a more literal kind, there was Pierluigi Billone's Mani.DeLeonardis, a percussion piece played on spare car parts. 
The fearless musicians that make up Apartment House, and their dogged commitment to contemporary and avant-garde music, were exhilarating, never shying away from even the most challenging of sonic experiments. They performed new commissions by Jack Sheen, Sarah Hughes and Anton Lukoszevieze. There was also Elizabeth S. Clark's Book Concerto in One Act (2008), sculpting sound art from the essays of artist Robert Smithson, plus a performance of the notorious Sixth Sonata — a piece that appears to want to destroy the piano — by the Russian composer Galina Ustvolskaya.
Bringing the concert to a wonderfully noisy conclusion was the UK premiere of a glitch piece by Japanese artist Yasunao Tone, who used his Artificial Intelligence systems and corrupted MP3s as his instruments, dwelling on the damage that technology is capable of. 
For all its obscurity, LCMF has attracted an impressive crowd so far, which is encouraging to see. Despite the apparent dwindling of classical music audiences, the diverse range of events offered by this festival, and its support of new and emerging composers, prove that there's still an appetite for exploring the outer boundaries of music and sound. 

LCMF continues until December 10th at Ambika P3, London