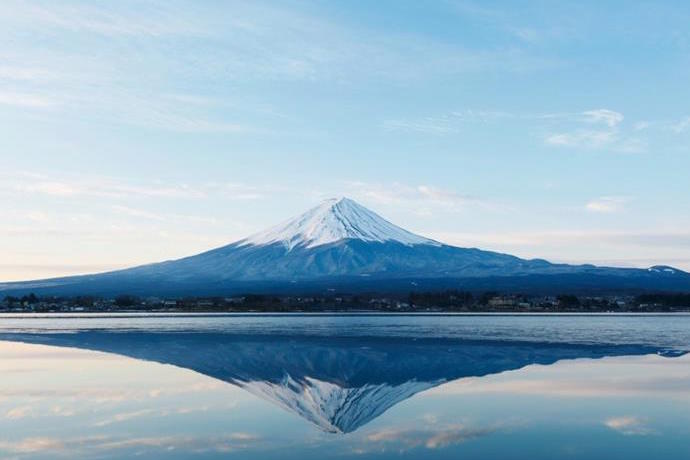 By Toby Deller
'The story is the oldest Japanese sci-fi story,' says Verity Lane, creator of Japanese Sandscapes: The Tale of Mount Fuji, which premieres in the shaft at the Brunel Museum in Rotherhithe, London on 20 and 21 October. She is referring to 'The Bamboo Cutter', a tenth century tale that her latest multi-media show takes as its starting point.
'This old couple live in a bamboo grove. He goes out one day to cut bamboo as usual but he discovers a girl living in the bamboo grove. She's tiny, about the size of a thumb. They take her in and look after her and she grows up and becomes a fully grown human. During this period, every time he goes out to cut bamboo he gets these little nuggets of gold. Word gets out about this girl – she's very beautiful, otherworldly – and five princes come along and want to marry her. So she sets them each a test, to bring her certain items, to prove they are serious about her. They all fail. Then the emperor comes along and also wants to marry her. At this point she gets really sad as she realises she's got to go back to the moon – apparently she has been exiled from the moon for some reason, we don't know what she's done – and sent down to earth, perhaps as punishment, perhaps to be looked after (the gold nuggets are payment to the couple). But now the moon people tell her she's got to go back. She goes back to the moon and everyone is really sad – that's the yugen element.'
Jazz is quite close to Japanese music, the rhythms, the way the beat is manipulated
Lane, who is as likely to describe herself as a soundscapist or music-maker as a composer, spent ten years in Japan learning about Japanese music and culture after her initial studies at the School of African and Oriental Studies in London. The aesthetic concept of yugen is something that she often returns to in the music she now writes, not least in her previous show Yugenism: Animated Soundscapes of the Japanese Sublime, that sold out Cafe Oto in February this year.
'Yugen, which is found in Noh theatre, is a concept of austere beauty. Lots of people would translate it as meaning something dark and mysterious but it's more than that, it's a kind of melancholic feeling, sadness but also a beauty in that sadness. There's a kind of longing.'
In that show, Lane mixed music with dance and live animations; for Japanese Sandscapes, as well as showcasing Japanese dancer and multi-instrumentalists Kaho Aso she is bringing to the UK the Japanese sand artist Akifumi Kasanuki, projecting his creations on to the wall of the spacious cylindrical performance space. It will be his first performance outside Japan, and while he has made his pictures live to music before, this has typically been to a pre-existing piece with which he is familiar rather than one that only takes shape at the moment of creation.
That would suggest the musical element of the show is improvised. 'In the dance elements, I really started by writing each part and writing each note but I realised that if I did that then I'd forfeit the freedom and the natural evolution of the music. So I decided to give them each elements that I wanted in there, different motifs and different things to play at different sections that they could then, to an extent, improvise, although it's more controlled improvising.'
So, while there is a musical score of sorts, Lane explains: 'I've tried to make it so that you can kind of remember each fragment, so the musicians don't really have to read the score. They know the elements, they have the idea. The dramatic element comes out of them. It's not so much about the music as such, it's about the performance. It's not about someone banging a drum, it's about how they lift their hand up and how they attack the drum as much as the sound they make. There's always in Japanese music a way of preparing: there's a way of preparing to go on stage before you go on stage. It's how you go on stage, how you put your instrument down, how you stand up, it's all so important. Whereas with a classical orchestra, they'll wander on, warm up a little bit…'
Lane has divided the tale into four parts, each one using a different combination of instruments: as well as Japanese flute and hand drum, there is a percussionist (Beibei Wang), violinist (Alison Blunt) and pianist (Veryan Weston) as well as storyteller Tomoko Komura.
'Alison, her roots are classical but she goes into the avant-garde and experimental. Veryon is a jazz improviser – jazz is quite close to Japanese music, the rhythms, the way the beat is manipulated. If I tried to do this with someone who was classically trained, it wouldn't work, the manipulation of the rhythm would be too much in time.'
She also matches each of the four parts of the tale to a season. 'It also starts off quite bright in the daytime in spring and it will end up at night with the snow falling on Mount Fuji.' That brings us to the quesion of exactly what is the relevance of the iconic mountain to the tale, which rests partly on one origin of its name: fushi, meaning immortal.
'The girl is back on the moon, everyone is sad and the emperor's really upset because he really wanted to marry this girl. He was going to take the elixir of life and live forever but now he thinks there's no point in living forever because she's not going to be here. So they burn it on Mount Fuji and it seeps into the mountain which becomes the incarnation of immortality.'
It is also, Lane reminds us, an active volcano. Hence, she says, 'The last part starts quite dramatically. But we'll try not to blow your mind!' 


Japanese Sandscapes: The Tale of Mount Fuji, (supported by Daiwa and GB Sasekawa Foundation), at The Shaft, Brunel Museum, Railway Ave, London SE16 4LF brunel-museum.org.uk/ . Friday 20 October, 8pm, Saturday 21 October, 3pm