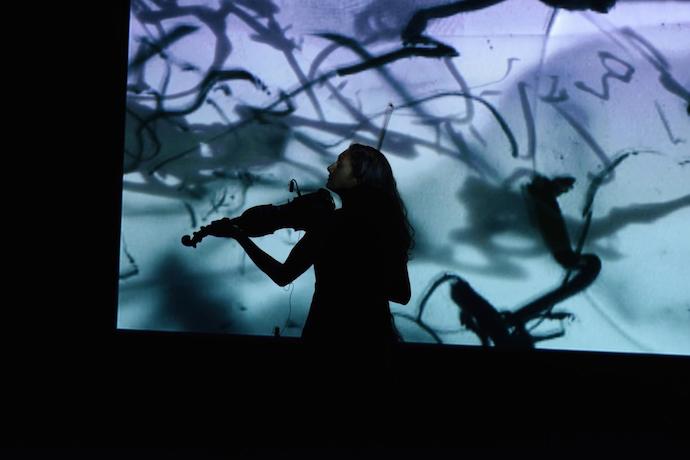 By Christopher Webb
Print Room at the Coronet, Notting Hill
Upon entering the Print Room at the Coronet, you pass through a darkly-lit, winding passageway housing a series of striking slide projections by Dragan Aleksic. These pieces have a powerfully affective quality to them—some show what looks like erratic calligraphy—and they add to the whole disorientating experience of entering, as you climb, descend, and walk along slanting floors. Finally, you end up in an elaborately decorated bar that belongs in the past, one that would not look out of place in, say, 1906, which is the year the narrative of Hearing Voices, Jocelyn Pook's dramatised song cycle about mental illness begins.
The performance opens with the life of Agnes Richter, who has been in state asylum for 11 years, working as a seamstress. Agnes, played by mezzo Soprano Melanie Pappenheim, knits as she sings of her work in confinement, 'right sleeve, brown silk/right pocket, inside brown.' The staccato rhythm of the viola (Pook), violin (Preetha Narayanan), and cello (Laura Moody) combine with the menace of the clarinet (Susi Evans) to forge an uneasy atmosphere and a sense of mounting tension.
As the performance progresses, and as Agnes' narrative segues into Phyllis Williams' (Pook's great-aunt) in 1934, the relationship between ensemble and mezzo soprano becomes tense, almost combative, as the ensemble moves in to surround Pappenheim, creating the illusion that the ensemble is the mind of the protagonist on stage. Phyllis soon becomes Pook's own mother some years later, who wrote about her experiences of mental illness under the pseudonym Mary Cecil. And it is in this vignette that the phenomenon of hearing voices reaches its most terrifying climax, as Pook's mother speaks of her shock when, walking down an empty street one day, she hears—suddenly—a demanding male voice: 'WHO THE HELL ARE YOU?'
Hearing Voices is special because it still manages to absorb and entrance without the conventional props of dramatic narrative. The voices of artists Julie McNamara and Bobby Baker overlay the dramatic vignettes we see on stage and help to shape not only the contours of the music (Baker's laughter is a recurring motif) but also our understanding of how social perceptions of mental illness have changed from the early twentieth century to the present time.