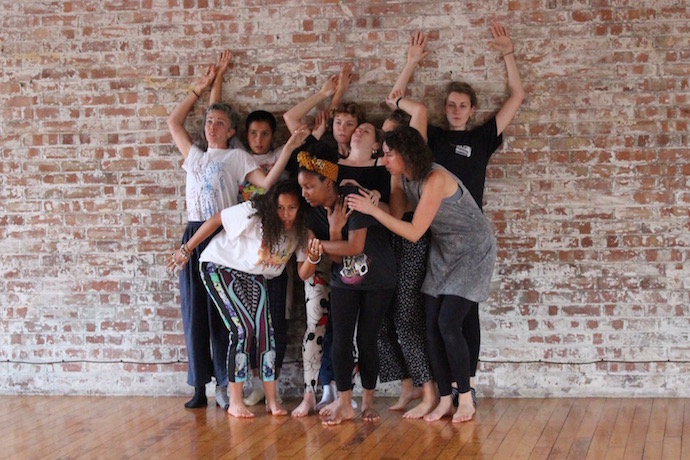 The Vaults, London Waterloo
By Sam Taylor
Buzzing away in a smokey subterranean chamber beneath Waterloo station, The Swarm follows the 'musical journey' of a colony of bees as they migrate from the city in search of a new home. The hour-long piece, performed by The Quorum's all female choir, is a self-styled opera with a score that is far more developed than its storytelling and dramatisation.
It certainly impresses both harmonically and rhythmically. Combining various forms of traditional African music, the nine-strong choir's polyphonic melodies interlock in different rhythmic patterns, producing a cluster of honeyed harmonies. These harmonies are not always mellifluous: like a pitch-shifting vocoder, the choir slides between different notes and key centres, replicating the droning of a swarm. The result is often inspired.
But it also falls short on tonal and dynamic contrast. The scenes where the bees encounter 'a deadly extractor fan' and a rainstorm fail to produce real moments of danger. And for all that the polyrhythms and overlapping melodic patterns had the potential to capture the more frenzied side of a swarming beehive, they never capitalised on it. There is little sense here of the distinction between the urban and the natural – a problem echoed in the hazy narrative, which can only be followed if you read the programme notes simultaneously.
Elsewhere there are wasted opportunities. The choreography feels underdone and under rehearsed, lacking in verve or dramatic flourishes. The atmospheric setting of The Vaults is underused, and quite why the space smells like an incense hotbox is unclear. When isolated, the fantastic choral harmonies echo soothingly through the cavernous tunnelled archway, generating real atmosphere, but those moments were too few and far between, thanks to the additional layering of prerecorded sounds.  At £15 for an hour's worth of entertainment, the result might leave you feeling short-changed.  
Though strangely overlooked in this 'celebration of bees', the disturbing decline in bee numbers could make The Swarm potently relevant. Perhaps with more time invested in its narrative and staging, this opera has the potential to speak to us more compellingly about our times.