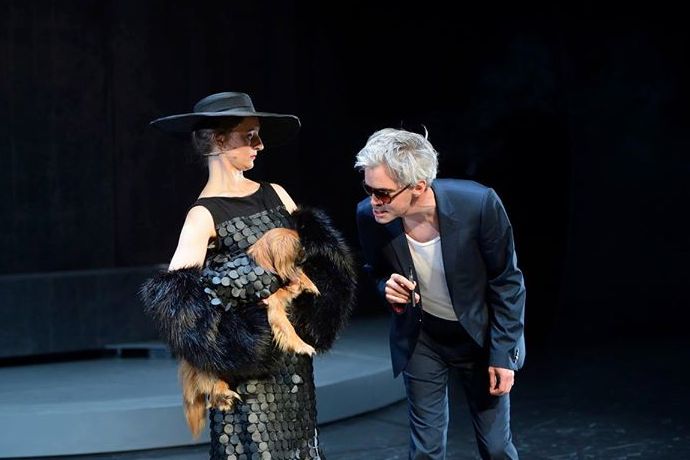 Radialsystem V, Berlin
Nico and the Navigators are a Berlin-based theatrical ensemble describing themselves as 'full-body poets', using music, dance and physical comedy in their evocative and often improvised avant-garde works. Founded fifteen years ago by director Nicola Hümpel and stage designer Oliver Proske, Nico and the Navigators have become a Berlin institution, often working on the boundaries between opera and theatre. In 2013, the ensemble presented a theatrical work at the Deutsche Oper based on the music of Gustav Mahler.
The hour that we knew too much of each other, on the other hand, has rather more quotidian subject matter. Revived at Berlin's Radialsystem V last week after its premiere in Hamburg last year, the work is a bleakly humorous look at life and love in the time of over-communication and social media. Whilst Peter Handke's 1992 play The hour we knew nothing of each other used over 300 silent characters, Nico and the Navigators make their point with just eight actors, who appear as clownish grotesques in a series of absurdist scenarios.
The gap between digital and actual human connection is a rich seam to be mined, although Nico and the Navigators' piece pursues a singular and pessimistic logic. The protagonist, magnetic tenor Ted Schmitz, encounters a series of bizarre smartphone-wielding stereotypes – robotic business suits, idiotic English expats, hysterical Japanese tourists – with whom attempts at interaction are unsuccessful. At several points he asks 'Can I help you?' or 'What are you doing?' to which the response is invariably confrontational – one character in a fluorescent dirndl aggressively dances at him whilst another in a green parka silently screams.
The ensemble's fantastically committed performance meant the slapstick moments paid off – one brave actor endured a loud smack on his bare chest, and bore the painful red mark for the rest of the performance. Music provided reflective moments throughout: after Schmitz dances with a mysterious stranger in a bridal gown, he comments that 'there, I knew who I was', and gives a tender rendition of Bonnie 'Prince' Billy's Strange Form of Life. Yet, the work's relentless focus on the alienation of modernity meant that its attempt at reconciliation at the end was slightly mawkish.