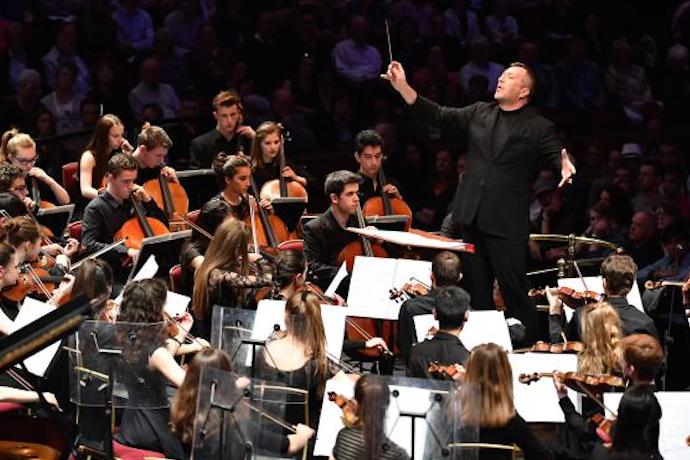 Royal Albert Hall, London
By Sam Taylor
Delivering a programme of intense, adventurous modern music, the National Youth Orchestra's annual Proms performance was one of admirable poise and flair.
With the 164-strong orchestra conducted by composer Thomas Adès, the evening combined two contemporary works – Francisco Coll's Mural (2015) and Adès' own Polaris (2010) – with the epochal modernist piece: Stravinsky's The Rite of Spring (1913).
Of the three, Coll's Mural was the most discordant and had the least tonal variety. A 'grotesque symphony' in five short, impactful movements, it is characterised by warbling strings, eerie chimes and sharp croaking horns, that, together with sudden dynamic shifts, produced frequent horror-movie jumps. Moments of calm reflection were centered in the slower, more melancholic third movement. Elsewhere, Coll's composition occasionally sounded like an incoherent din. There were few melodies and themes to pick out, and the use of percussion (including timpani, xylophones and even a giant hammer) was often more cacophonous than rhythmic. Nevertheless, that very capacity to unsettle was in itself absorbing.
By contrast, Adés' Polaris (inspired by the Pole Star) started simply with a dreamy, sinuous piano melody. This melody was then subjected to constantly changing time signatures and unusual chord modulations, while chiming glockenspiels, elaborate strings and celestial brass elevated the piece above the stratosphere. Despite a slightly forced finale that jarringly crescendoed like a whistling kettle, in just 13 minutes Polaris conjured a hypnotic, interstellar soundscape.
But best of all was Stravinsky's The Rite of Spring. Though the piece is known for being challenging, complex and at times dissonant, what struck me most, in this live performance, was actually its immediacy and accessibility. With its feral intensity, jazz-like repetition, and strong sense of rhythm, this is the perfect piece for a teenage orchestra with some members as young as 14. From the adapted folk bassoon that starts The Rite, to its ferocious bow-beating, tribalistic rhythms and frenzied climaxes, the NYO attacked the piece with relentless energy. Having ascended to the stars, the NYO's exhilarating Rite of Spring brought the evening crashing down to the sacred earth.