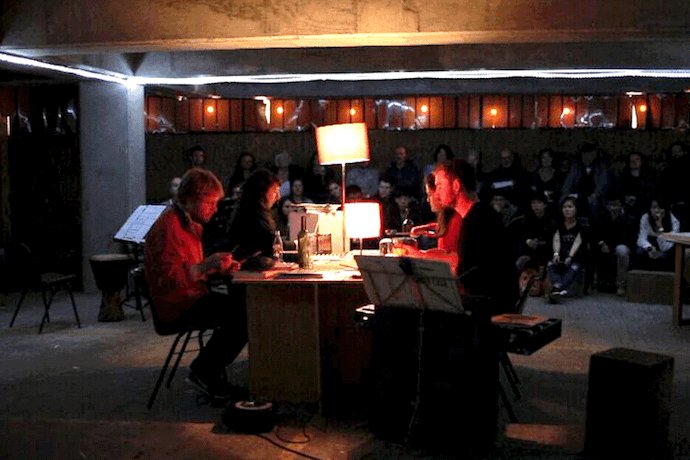 Bold Tendencies, Peckham, London
By Jonny Venvell
Enter through the curtained doorway of Bold Tendencies' Hay Bale Auditorium and you'll be greeted with what appears to be an urban farmyard. The musty smell of the hay seating fills your nostrils and your eyes begin to adjust to the assortment of dimly lit flower pots, teacups, metal piping and breeze-block music stands collected in the centre of the space.
Look closer and you'll find that the concrete floor is criss-crossed with flaking yellow paint – a reminder of the room's previous incarnation as a car park.
This fusion of cosiness and concrete, the colloquial and cutting-edge, typifies the uniquely accessible music-making which Multi-Story has pioneered – and Friday's sold-out concert, featuring the dynamic Abstruckt percussion ensemble, was no different.
The hubbub of the auditorium crowd was brought to an abrupt halt by an all-jumping, all-shouting opening number, Dieter Schnebel's Poem für einen Springer. Led by Ana Gasco Gomez, Poem was an exercise in coordination – calling to mind visceral pagan ritual and the fun of childish copycat games.
After a brief and beautiful foray into pitched percussion in the form of a marimba arrangement of Bach's Fugue from his Violin Sonata in Gm ('because I can't play violin', as the marimbist, Jude Carlton, dryly noted), three members stepped up for another mix of percussive theatrics: Guo Wenjing's Drama for Three Pairs of Cymbals and Voices of Players. Considering the limited timbral palette, Abstruckt drew out a complex world of sonic colours, leaving no playing technique unexplored as they mingled vocalisations and choreography with intricate hi-hat-style hockets.
Then the lights were dimmed and the group literally turned their attention inwards to the motley assortment of domestic percussion in the centre of the room. Abstruckt beat out a slow-moving passacaglia on the tuned flower pots over which the crystalline copper bells and teacups were interpolated. This third movement of David Lang's the so-called laws of nature continued the feeling of ritual, though in this case it offered a space for contemplative meditation rather than Dionysian action.
The evening reached its dramaturgical climax in the final item with the audience moving between the four performance stations of Mark Applebaum's Straitjacket. Though beginning with a rhythmically unadventurous unison drum kit quintet, the group became less 'straitjacketed' in the third movement, which showcased Abstruckt at the peak of their abilities. Responding to one performer's minutely choreographed gestures, the rest of the group, like live Foley artists, performed expertly timed noises, alternately affirming and confounding the audience's attempts to draw a meaningful connection between the aural and visual stimuli.
Overall this was an evening of contemporary music at its best: funny, meditative, visceral and presented in a friendly and engaging manner.
It's not often you can say this, but I can't wait to get my hands on another ticket from this car park.