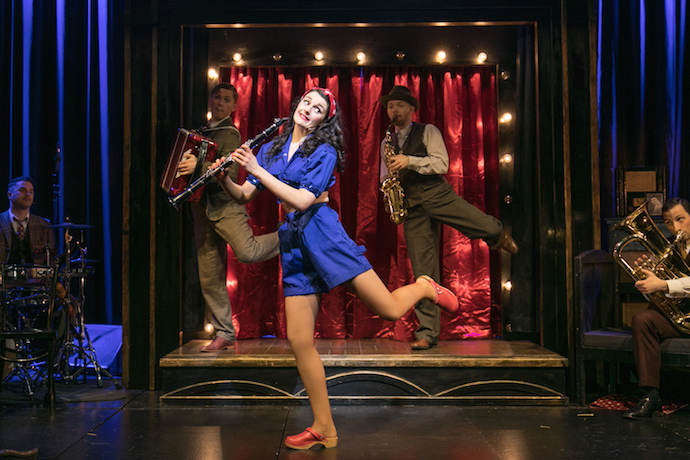 Hippodrome Casino Theatre, London
By Sarah Kirkup
I cannot think of a better setting for the wartime musical comedy Miss Nightingale than the intimate Theatre at the Hippodrome Casino, tucked away on the first floor of the imposing entertainment venue in Leicester Square. Its step-back-in-time, ever-so-slightly-seedy atmosphere evokes those dark, desperate days in London during the Blitz when, as Quentin Crisp wrote, 'As soon as bombs started to fall, the city became like a paved double bed … In dimly lit trains, people carried on as they had once behaved only in taxis.'
But what starts out as a sleazy, back-alley encounter in Matthew Bugg's show – first performed at The Lowry Studio in 2011 and now receiving its final revival – soon transforms into something deeper, as an illegal love between two men dares to make itself known against a backdrop of rationing, air raids, and riotous wartime cabaret.
Northern lass Maggie Brown – nurse by day, one half of a performing duo (with Jewish refugee George Nowodny) by night – persuades wealthy socialite and RAF war hero Sir Frank Worthington-Blyth to take her on as an act at his nightclub. Maggie looks set to become a sensation but, with a lowlife lover and a 'lost in action' soldier brother to contend with – and as the relationship between her accompanist and her impresario grows increasingly complicated – will 'Miss Nightingale' bounce back or bomb?
The six-strong cast draw in the audience, making us feel part of the action by interacting with us as we're served complimentary drinks at informal cabaret tables. There is only a small step up to the stage, increasing that sense of inclusion. Carefully chosen pieces of war memorabilia – gas masks, battered suitcases, army uniform – are displayed at various points between the seating area and the stage, and there are 'ration book' programmes and 'Nightingale newspapers' on every table. Between each scene change, we hear music as if played through an old transistor radio, as well as the occasional burst of an air raid siren.
As Maggie, the slight, raven-haired Lauren Chinery (a dead ringer for Kristin Davis, aka Charlotte in Sex and the City) is the star of the show. She can act, she can dance, she can even play multiple instruments (the sax and clarinet most impressively) – but boy can she sing. Whether she's belting out saucy numbers like 'Sausage Song' and 'The Pussy Song' (no explanations required!), singspiel-ing as Noel Coward in 'I Do', or crooning in the emotional ballad 'Understudy', she's mesmerising. Her use of vibrato is gorgeous and, despite reaching an impressive volume when required, she never over-sings.
The rest of the cast are more varied, Matthew Floyd Jones perhaps giving the most nuanced performance as the complex George. But all are versatile musicians, with Adam Langstaff particularly nifty on the drums (I also loved Oliver Mawdsley – affable and endearing as Sir Frank – on trombone and spoons). Writer and director Matthew Bugg oversees proceedings with an easy authority, switching effortlessly between piano, saxophone, violin, double bass, ukulele and clarinet. He also briefly plays Harry, Maggie's brother, as well as a raunchy, masked performer in the Weill-esque 'Mein Liebe Berlin'.
The group numbers can occasionally lose their way, the effect being of individual vocal lines sounding simultaneously rather than blending as a true ensemble. And the first act feels a little long. But these are minor quibbles in what's a hugely entertaining, refreshingly bawdy knees-up of a show. 

Miss Nightingale runs until May 6 (over-18s only); visit missnightingale.co.uk