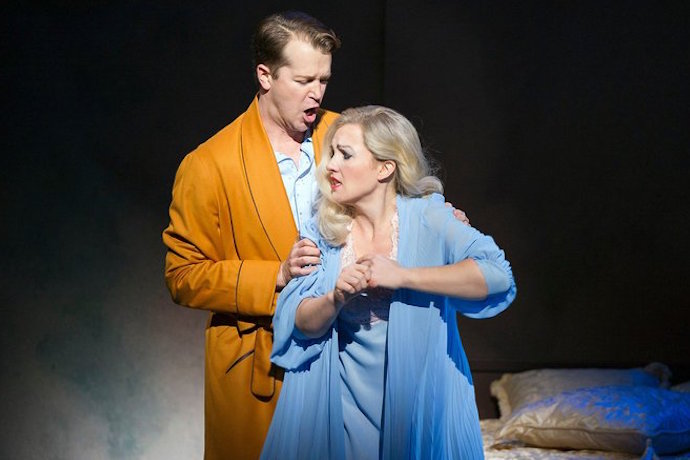 English National Opera, London
By Christopher Webb
We are in an office on the outskirts of London and it's 1959. It's busy—frantic, even. Numbers, invoices, ledgers, and typewriters deck the stage, their silhouettes pan the stage-screens. Typewriter keys click, clack, and offset the thunderous theme that furiously gains in speed. Were it not for one office worker's sharp green dress—centre-right—we might not know where to focus our attention as dourbrown suits rush and run to and fro, across the enormous platform, attending to their everyday business. Before long, the lady in green edges closer to sing an aria, surrounded by several iterations of herself, each of whom wear different coloured dresses. They close around her as she asks, plaintively: 'What shall I be?'
This is the wonderfully energetic opening set-piece to Nico Muhly's Marnie, a co-production between the English National Opera and the Metropolitan Opera, New York, which had its world premiere at the London Coliseum (18th November – 3rd December 2017). It's a clever way of establishing our eponymous heroine's peculiar position in the world—conspicuous yet somehow always hidden—and a means to set up an atmosphere of panic and suspense, which Muhly's rich score sustains throughout.
Marnie, created by mezzo-soprano Sasha Cooke, is always on the run, forever chased by her criminal past, which has seen her steal large sums of money from the many chauvinistic company directors who foolishly hire her—usually on the basis of her looks—which frequently forces her to adopt a new identity and move on. We learn that Marnie has already been Meryl, Molly, Mandy, Maisie, Maudie, and Myra before she arrives on stage.
Such shapeshifting leaves us, and Marnie, uncertain about who she really is. And perhaps the only constant to Marnie's character is her orchestral twin: the oboe. While she is a difficult character to warm to, Marnie's treatment in several oppressive, male-dominated environments inspires our sympathy for her. And it's these kinds of environments that are responsible for most of the oboe's anxious shrieks, which sensitively reflect Marnie's state of mind.
Muhly has forged a special opera, here, one that, musically-speaking, contains beautiful ambiguity and real depth. So it's a shame that the libretto can, at times, feel a touch obvious: for example, when the chorus tells us that 'to test the limits of forgiveness, she lied and stole, again and again.' Our interest in Marnie is contingent upon her opaqueness; it's lost when the motives for her acts are literally spelt out (overhead, we can read the scrolling surtitles).
It was never going to be easy to adapt a first-person novel into a lean, elegant libretto, if only because of the major differences in form, yet Marnie does well to animate a protagonist whose story, in Muhly's own words, had been 'screaming for an operatic treatment' for some time.