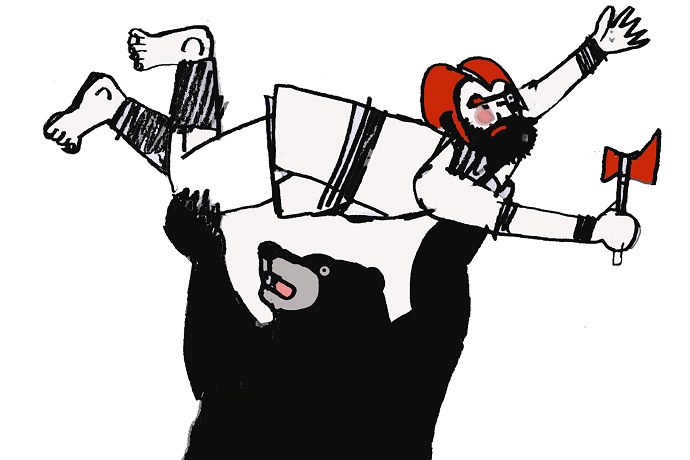 Centre for Contemporary Arts, Glasgow
New operas today lie across an aesthetic divide: either they are fairly conservative dramatic renderings of plots and characters, or they experiment with a dizzying variety of alternative options, radical in their notions of what 'opera' might mean. In a sense, Jan Tait and the Bear, by composer-librettist Emily Doolittle and co-librettist Peter Guy, fits the latter category: it delightfully reinvents opera as a casual form of community storytelling, based on a folk tale from the Isle of Fetlar in Shetland. But it is also pleasingly different from the majority of contemporary operas in that it is intended as all-round family entertainment, albeit heavily balanced towards the child demographic.
Guided by Alan McHugh's live narration, we learn that in the 15th-century Shetlanders had to pay taxes to the King of Norway in the form of butter. We meet Fetlar local Jan Tait, performed by Catherine Backhouse, who kills Sigurd the tax collector and is made to travel to Norway with Brok, only to be challenged by the King to bring back the head of a terrible bear. It doesn't take long for Jan Tait to find the bear, but it transpires that they have a lot in common, namely their taste for butter and their hideous appearance and bad smell. The two fall in love, or become best friends (the plot is not clear on this matter), and thwart the King.
This production's attention to detail was paramount: the provision of complimentary shortbread and whisky, and the performers' preparations on stage before the start, helped to set a friendly, informal mood. Brian McBride's exuberant multi-performance as Sigurd, Brok, the King and the Bear was memorable and often hilarious. Musically, however, Jan Tait and the Bear was hit-and-miss. The most striking passages were the travel to Norway, fantastically accompanied by Aileen Sweeney's accordion, and the rhythmic friendship duet. These contrasted with the less imaginative vocal numbers: the bathos of the Bear's premature appearance, for instance, was humorously effective, but too often the musical style was limited and safe.
Unlike some family entertainment, there was no double-layer of adult themes to supplement the many visual and gross-out gags. But that also lends Jan Tait and the Bear a refreshing innocence, enabling us simply to enjoy its sheer charm.