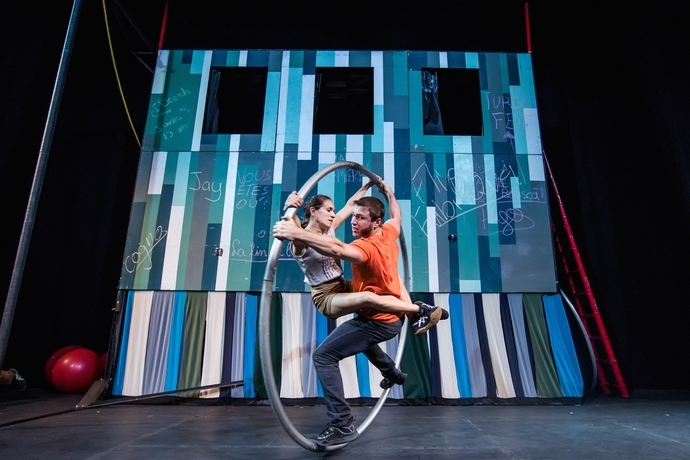 Underbelly Festival, Jubilee Gardens, London
By Sarah Kirkup
There's something refreshing about a circus troupe who don't look like a circus troupe. Although the members of Canadian group Flip Fabrique have in the past performed with larger, more conventional (albeit still contemporary) companies such as Cirque du Soleil and Cirque Eloize, they display their finely honed skills here wearing jeans, T-shirts and bandanas; it's an underplayed, casual presentation style, in which nonchalant sauntering segueways seamlessly into daredevil parkour, and it works brilliantly.
The premise is simple: five friends, who shared an idyllic summer holiday a decade ago, reunite at the same cottage for a weekend of memory-sharing and playful antics. The friendship factor is key here: Flip Fabrique's co-founder Bruno Gagnon created the group in 2011 because he'd had enough of touring and wanted to work with fellow artists to whom he'd been close since he started his career. The friendship is real and it shows.
The camaraderie between the four male performers is there from the start: macho one-upmanship and clowning around are interspersed with rough-and-tumble acrobatics and somersaults across the stage. The sole female performer, Camila Comin, is essential to these sequences: tossed into the air, propelled backwards and forwards like a human swing, she's the boys' innocent plaything, a kid sister who sometimes gets in the way. But the friendship element is lacking here – Comin seems too polished as a performer to really 'let go', to buy into a narrative that the four men seem only too happy to embrace.
If juggling is passé, juggling upside down definitely isn't – particularly when it's accompanied by beatboxers (Christophe Hamel and Jérémie Arsenault do a fine job here). And if there's an occasional slip during the diabolo scene, it doesn't really matter – these are friends having fun, and we're in no doubt of the talent on display. But we move on to another level entirely with Hugo Ouellet Côté's whimsical, nostalgic rope routine during which he and his friends pore over photographs of times gone by; he manages to incorporate the photo album into a glorious sequence of movements, both balletic and acrobatic, which never seem contrived or purely 'for show'.
In a similar vein, Yan LeBlanc transforms before our eyes from shy and scruffy to deft and lyrical as he manipulates the cyr wheel, faster and faster until his outline is a blur. And Comin is breathtaking on the aerial hoop (no safety net), although, again, it feels more like a performance rather than an integral part of the narrative.
The most enjoyable moments of the show are when the performers really let loose and allow their individual personalities to shine. Barry Manilow's 'Copacabana' is the perfect vehicle for a hilarious scene involving wacky sunglasses and giant beach balls, which are tossed, rolled and juggled with effortless precision. But Flip Fabrique save the best for last: a giant trampoline, polyphonic bouncing (expertly timed) and jumps so high we find ourselves wishing we were in an open-top venue. The performers are having the time of their lives – and so are we. 

Until Sunday 9th July. For tickets, visit underbellyfestival.com