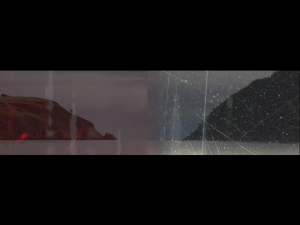 1.  The Terrestrial Sea, London
In 2012 Mark Lyken was artist in residence at The Lighthouse Field Station in Cromarty, where he worked alongside ecologists to record his album The Terrestrial Sea. Now Lyken and filmmaker Emma Dove have developed the piece into a cinematic performance, accompanied by visuals commissioned by the Glaswegian art-house, Cryptic.
Edinburgh Filmhouse, August 16-18
cryptic.org.uk/terrestrial-sea-2
2. Sally O'Reilly: Illuminated Manuscript, Oxford
Choreographed text, live music and performing bodies intermingle to reconsider the idea of the fantastical in Sally O'Reilly's new commission. It's all part of KALEIDOSCOPE, a year-long series of interlinking exhibitions, performances and events celebrating Modern Art Oxford's 50th anniversary.
Modern Art Oxford, August 4
modernartoxford.org.uk/event/kaleidoscope-live-sally-oreilly-live-illuminated-manuscript-2
3. Lovely Roof, London
Works by Tabakova and Piazzolla feature in this concert of contemporary music curated for a roof garden in Canary Wharf. It's one highlight of the Late Bloom Festival: four days of drama, music, spoken word, dance and more across the borough of Tower Hamlets.
Crossrail Place Roof Garden, Canary Wharf, London, August 4
space.org.uk/event-booking/?event=latebloomfestival
4. Bittersuite at the Wilderness Festival, Oxfordshire
Audience members are blindfolded and led by a performer in this event which combines gourmet tastes, bespoke scents along with choreographed touch and movement.
Cornbury Park, August 4-7
5. Superwoman of Science Minerva Scientifica, Edinburgh
Ada Lovelace, the first computer programmer, and Mary Somerville, a mathematician and cosmologist, are among those featured in this concert, whose aim is to highlight the achievements of female scientists.  Contemporary and ancient music are heard side by side, along with the recorded voices of scientists, historians, composers and members of the public.
Valvona & Crolla Caffe Bar, Edinburgh, August 6-28
6. Monumental, Edinburgh
Prepare for sensory overload in Monumental, a show from two of Canada's most uncompromising performing arts groups: The Holy Body Tattoo and Godspeed You! Black Emperor. Dancers writhe furiously on pedestals while a live eight-piece rock band pounds out mesmeric music. The addition of a provocative text by conceptual artist Jenny Holzer and a film by director William Morrison completes the violent and cathartic drama.
Edinburgh Playhouse, August 8-9
eif.co.uk/2016/monumental#.V4DT5TVCpDo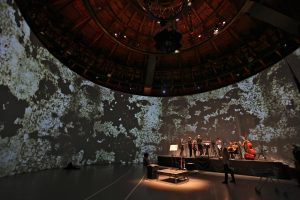 7. Curtain Call Live: London Contemporary Orchestra, London
Curtain Call is an installation at Camden Roundhouse by artist, architect and designer Ron Arad. The curtain – which is made of 5,600 silicon rods, suspended from an eighteen-metre diameter ring – is the canvas for a series of films and live performance. On August 25, London Contemporary Orchestra performs in and around the 360-degree installation, presenting world premieres of two new commissions by composers Mica Levi and CHAINES.
Camden Roundhouse, London, August 25
roundhouse.org.uk/whats-on/2016/ron-arads-curtain-call
8. Multi-Story Chamber, London
Peckham Car Park plays host to Bartók's Sonata for Two Pianos and Percussion, performed by the Multi-Story Chamber Orchestra.
Peckham Car Park, London, August 26 and August 28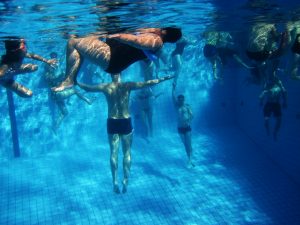 9. Wet Sounds, Peterborough
Wet Sounds is an underwater sound art installation and performance created by artist Joel Cahen. Visitors float, swim and dive in the water as they enjoy this new aural experience (read our review of a previous event). However, this iteration is slightly different: the sounds showcased at Wet Sounds Peterborough will be created by local schools and local people including young musicians and call-centre employees.
Peterborough Lido, August 28
10. Art Late, Edinburgh
Art Late is a weekly event running throughout the Edinburgh Festival. Each night is a jam-packed tour of exhibition openings, live music, performances and artist talks. For instance, on August 18, attendees will meet at The Fruitmarket Gallery, then check out the Stills Gallery and the Queen's Gallery, enjoy a performance at the Edinburgh Art Festival Kiosk, a talk by artist Olivia Webb at the Trinity Apse, visit artworks by artists Graham Fagen and Bani Abidi, and finish with music from Jonnie Common at the Scottish National Portrait Gallery.
Venues across Edinburgh, every Thursday in August.